Last Reviewed on 12 December 2018
These shoes are definitely worth a try if you are moderate overpronator who needs more stability in foot arch. Saucony offers them in different widths, so choose accordingly.
Although they do not score as high as some other shoes because the technology in the shoe is less advanced, the price reflects this and they do represent value for money.
---
The Omni Walker athletic shoes from Saucony, a well known and respected brand, aren't new to the market. These have been tested by countless fitness enthusiasts along the years and their high rating has stayed constant. The recent improvements have turned this model into an even better shoe for more than just walking.
The sneaker is a motion control type of shoe, made for people who are suffering from collapsed foot arches and overpronation.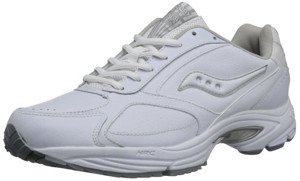 The main feature – A shoe made to control pronation issues
Overpronation is a frequent problem for fitness walkers, who put so much pressure on their feet. Saucony created a rubber sole with a high durometer that's slowing down the pronation speed.
In addition, the sole shows asymmetry, to make a perfect fit to each foot's natural shape, as well as to the way it moves as we walk. To aid transition, the exterior of the sole is designed using the original Walk Trac. For a perfect fit, strive to find the right width.
Compare other motion control shoes in my article about the best walking shoes for women 2018 (males go here: Good walking shoes for men 2018)
Appearance
The lace-up shoe comes in two versions: entirely black or white, with the logo at the side in the same color. What is more important is that you can find this model in either leather or synthetics. The prices will therefore show considerable gaps – Omni Walker shoes are available in various stores, Amazon included, for prices up to 100$.
It has a 12mm offset, with stack heights of 29mm (heel) and 17mm (forefoot). These shoes will look worn after some time, when used on a daily basis, but normally tend to hold their shape very well for a long time.
Pros
The Saucony Omni Walker has more than a few great features and solid advantages over similar models in the same range. The manufacturer has taken enough care to use a very soft, adaptable type of leather. Besides, the shoe has moderate pronation, which makes it suitable to a large wearers.
You will feel the foot is safely cradled, which will give you confidence in your extensive running. The superior degree of comfort is perhaps the first advantage you will be convinced of. Moreover, this shoe is very stable, also absorbing shocks efficiently and allowing for a more natural, less exhausting movement.
Cons
This Saucony model isn't exactly waterproof, so it won't hold too well if you carry out your walking routine in bad weather. It isn't described as water resistant either (see my article about waterpoof walking shoes). Also, the shoe is not too soft on the inside. If you want to work on that, note that it allows for softer inserts. That, however, will add to the expense. The heel isn't so durable, especially if you overwork it.
Conclusion
Sadly the Omni walker by Saucony is not an all-weather shoe, but it provides a superior level of comfort and movement adaptability, which makes it a good choice for those who walk and run more than the average person.
It is suitable for athletic activities of a more intense kind, taking place on a constant basis. With a sock lining that feels smooth and a more natural sole design, this is bound to enhance the performance and delay the inset of soreness. It is not small, nor too light, but it makes for a stable stride.
'Hit the Road Jack' the
Glycerin 16 will take you back.

If the going gets hard, Brooks
Glycerin 16 is there for you.